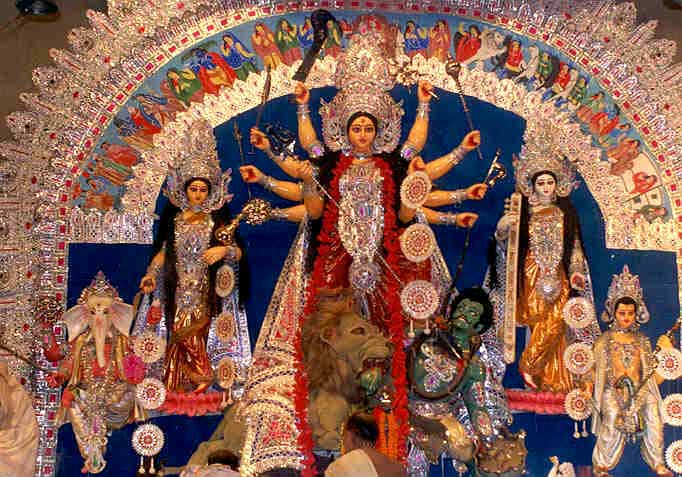 When we talk about bongs, we can seldom miss talking about maacher-jhol or rosogolla or taant-sarees or Durga Puja.
Eventhough you don't meet your friends and relatives for the rest of the year; Durga Puja being the main festival of bengalis, makes sure that all bongs are together during this time. The preparation of the grand event begins months before the festival but from the day of Mahalaya – the celebration begins. Mahalaya is the day of invocation or invitation to the mother goddess to descend on earth. It is also the day of remembrance where people offer "tarpan" in memory of their ancestors.
And then begins Navratri - the worship of goddess Durga for ten days. From sixth day of Navratri, starts the actual carnival and it continues till Dussera – the day when Maa Durga killed the demon Mahishasur that is the victory of good over the evil.
The stage is set with idols of Durga, Laxmi, Saraswati, Karthik and Ganesh and Lord Shiva; pandits perform puja all day long; huge pandals are set with crowd of hundreds of people who come for performing puja and then have the famous khichudi bhog; the evenings turn musical where singers sing the rabindra sangeet and other folk songs; various food stalls are set to satisfy the hunger pangs of people who get tired of talking and meeting the people; everyone is dressed in new clothes especially women clad in traditional sarees of dhakai jamdani, baluchari, kathastitch, toshor, bomkai…; in short one and all is seen enjoying the festival with never ending zeal.
There is delight of arrival of goddess on earth and gloom when she leaves the earth after immersion. This signifies that each of us goes through a cycle that starts with birth and ends with death; each of us has a different part to play when we are on earth; one who comes has to go and that is the law of nature and that has to be followed by everyone. And then with new hopes and new wishes, we wait for another year for the arrival of goddess and then another festive season begins.
May Goddess Durga shower her blessings on all of you!!! May all your wishes come true!!!
Wish you all SHUBHO MAHALAYA